Wild Singing and Manifestation Workshop - with Tallulah Rendall
Wild Singing and Manifestation Workshop - with Tallulah Rendall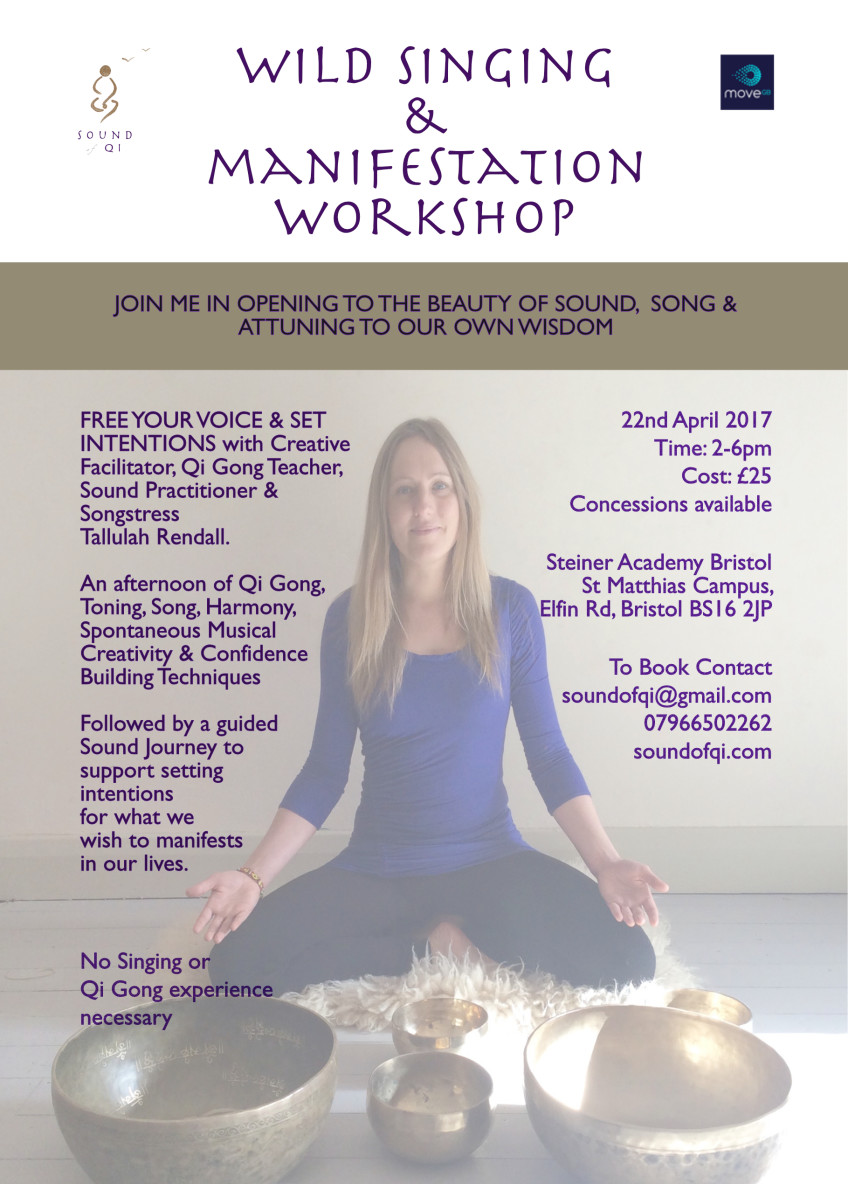 'I can't recommend this highly enough. I went at the weekend and it was really great' Caroline Pringle
'Thanks for the way you held the workshop. It was a refreshing experience for me, and has left me feeling...good about my voice and I think im going to try joining the local choir and see how that goes. ..Ill be coming to more of your workshops.' James
'It was a beautifully held afternoon & deliciously nourishing ~ Thank you Tallulah' Deborah Temple
Wild Singing – Nurture & Free Your Singing Voice.
Saturday 18th March was the first in a monthly series of Singing workshops that I will be holding at St Matthias Steiner Academy.
As with all workshops I plan the flow and journey of each session but you never know until everyone is together what magical alchemy will take place, and last Saturday was just another example of this. Also having not sung in the space with a group before I was unprepared for quite how incredible the acoustics would be when 15 voices were added into the mix! It was truly beautiful.
The afternoon began with us exploring Qi Gong as a way to align our posture and attune to our breathing before moving into Toning, Mantras, Song and Melodic Improvisation. As the day processed witnessing the group grow in confidence and the sheer joy emanating from each person was truly amazing and inspiring and as you can imagine I am really looking forward to the next one!
So on the 22nd April 2-6pm we will have our next gathering and as with this months session we will play with Qi Gong, Toning, Mantras, Song & Musical Improvisations. In April we will also set aside time to explore our voices accompanied by the sounds of singing bowls and gongs and use this opportunity to set some individual intentions.
The group will be limited to 20 people so please book your place in advance and if you have any question please email me mailto:soundofqi@gmail.com.
Thank you xx Tallulah
Tallulah Rendall is a Creative Facilitator, Qi Gong Teacher, Sound Practitioner & Songstress, with over 20 years experience as a touring musician releasing albums worldwide.
Dates & Ticket Links
Wild Singing - Nurture & Free Your Voice & Manifestation Workshop 22nd April 2-6pm
https://www.eventbrite.co.uk/e/wild-singing-manifestation-workshop-tickets-32461122090
Wild Singing – Nurture & Free Your Voice 6th May (2-6pm)
https://www.eventbrite.co.uk/e/wild-singing-workshop-free-your-authentic-voice-6th-may-tickets-33076594986
7th May - Song Writing & Performance workshop (10am-4pm)
https://www.eventbrite.co.uk/e/songwriting-performance-workshop-tickets-33077520755