Omkari Yoga - with Debbie Thomas. Mondays, 6.30 to 8.30pm
Omkari Yoga - with Debbie Thomas. Mondays, 6.30 to 8.30pm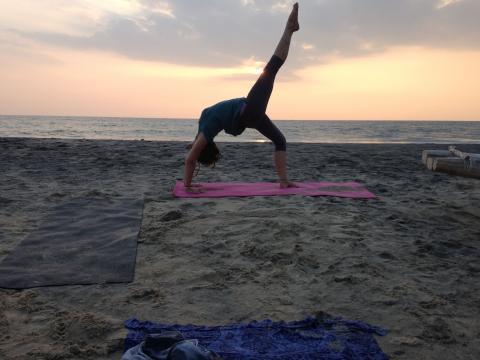 Yoga means union of the mind, body and spirit with the Divine and while this refers to a certain state of conciousness both individual and Universal, it is also a method to help one reach that goal.
Typically classes with Omkari Yoga follow a traditional, exact and easy-to-learn system of Yoga that uses Asana (postures), Pranayama (breathing exercises) and Meditation to offer a way of achieving better health of the physical body, a more peaceful mind and a greater spiritual evolement. This is like a toolbox of skills that help us lead a more fulfilled and balanced life. Bringing the body, mind, emotions and spirit into harmony we can support ourselves to be free from disease and regular practice relieves us from everyday stress.
Find out more about Debbie here.
This session is in the Music Room. Please use the Sports Hall gate on Oldbury Court Rd, and go into the lobby on your left.